Adriano Orrù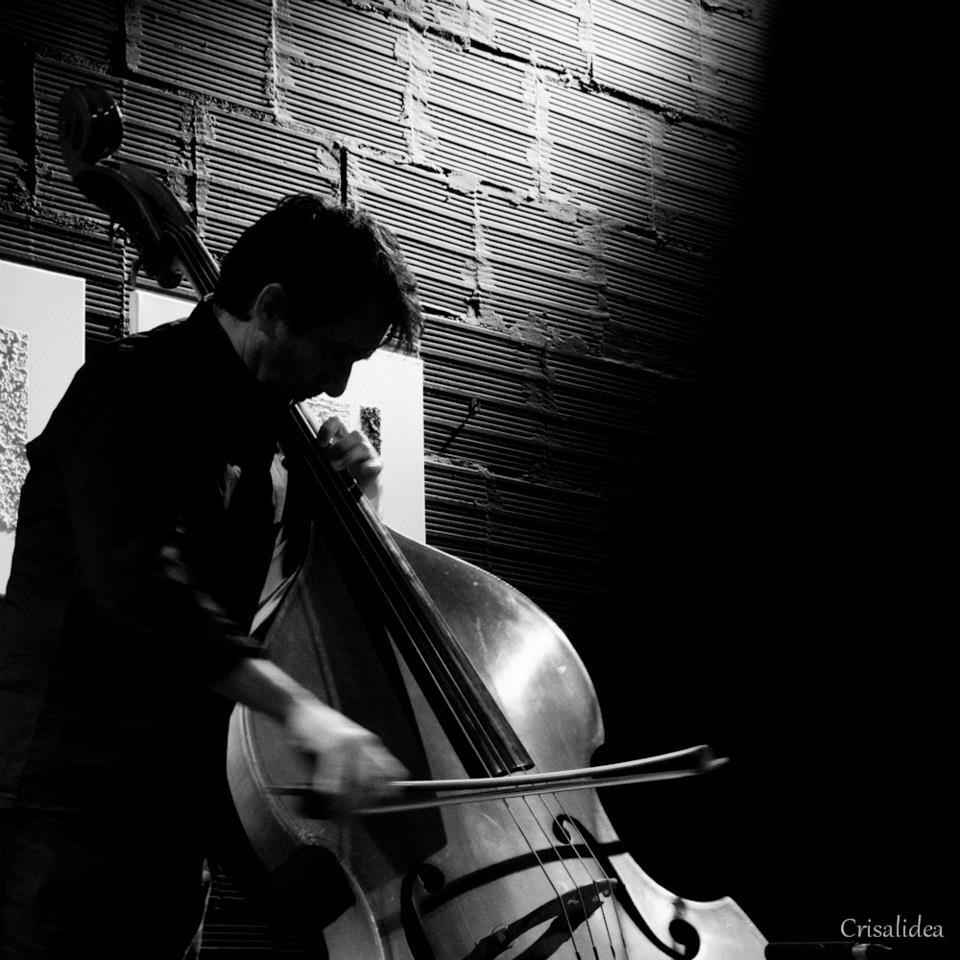 Composer and double bass player Adriano Orrù was born in Nuoro, Italy in 1958 and now lives and works in Cagliari, Sardinia. He devotes his time to jazz, radical improvisation, chamber music.
Orrù works with the Silvia Corda Trio on a regular basis, and several of his compositions can be heard on the trio's "Impronte", a CD produced by Splasc(h) in 2001. In 2004, he established the composition and improvisation ensemble Impromptu featuring Giancarlo Schiaffini. In 2005, he published a live CD of the Impromptu quintet and the first recording in his own name: "Solos and Duets", a work dedicated to double bass solos and duets with Giancarlo Schiaffini on trombone, Paolo Angeli on Sardinian prepared guitar, and Roberto Pellegrini on percussion. He has also worked with Moex, an ensemble focused on electric-acoustic experimentation. In 2010 Big Round Records published a CD "Improvised pieces for trio" with Sebastiano Meloni on the piano and Tony Oxley on drums. A new CD titled "Untitled Soundscapes" performed by A Sphere Of Simple Green (Silvia Corda on prepared piano, Simon Balestrazzi on laptop and Adriano on the double bass) was released in 2011 by the label Magick with tears. An EP, "Hèsperos", was released by LaBèl netlabel in 2011 as well, a double-bass solo. In 2012, the label Setola di maiale released "Collettivo di resistenza culturale" a full improvised concert live recorded. In 2013, Adriano released a live CD, "Gramsci in concert" along with Giancarlo Schiaffini, and was also featured in two tracks of "Sunya", the first release by Takatsuna Mukai. Also in 2013, the label LaBèl released "The Breath", a CD dedicated to Steve Lacy by the Geometrie Variabili quartet. In March 2014, Adriano played the electric bass in ten duets together with Mauro Sambo, Paulo Chagas and Silvia Corda in the CD "Palimpsest" and "Stanze", two releases for Pan y Rosas.
Orrù has collaborated with artists such as Giancarlo Schiaffini, Paolo Fresu, Tony Oxley, Lenka Zupkova, AN MOKU, Paulo Chagas, Mauro Sambo, Joao Pedro Viegas, Ettore Fioravanti, Roberto Cipelli, Marco Tamburini, Tino Tracanna, Andy Gravish, Tim Hodkinson, Marcello Magliocchi, Victor Nubla, Simon Balestrazzi, Silvia Corda, Takatsuna Mukai, Henning Frimann, Renato Ciunfrini, Guro Skumsnes Moe, Håvard Skaset, Angelo Contini, G.P. Campus, Corrado Altieri, Billy Sechi, Monica Serra, Mauro Cossu, Clara Murtas, White Noise Generator, Stella Veloce, Sebastiano Meloni, Alessandro Garau, Stefano Figliola, Alessandro Olla, Paolo Angeli, Manuel Attanasio, Elia Casu, Mauro Usai, Paolo Sanna, Roberto Pellegrini, Enrica Spada, Carla Onni, Giacomo Calabrese, Sara Marasso, Mario Faticoni, Paula Gimeno, Yali Herbet.
He has recorded for Splasc(h), Digitalis Purpurea, Comar23, TiConZero, Big Round Records, Setola di maiale, Magick With Tears, LaBèl, Pan y Rosas.
Reviews of his work have appeared in Down Beat, Il Manifesto, Musica Jazz, Cadence, Jazzit, Cuadernos de Jazz, All About Jazz, L'Unione Sarda, La Nuova Sardegna, Double Bassist, Jazzword, One Final Note, Flash Art, and on Radio 3 RAI.
Photo by Crisalidea
He has performed at events such as Isole che parlano, Time in Jazz, Ai confini tra Sardegna e Jazz, Concerts of the Nuoro Jazz Seminary, Jazz d'autore, Cerisano Jazz, Varese in Jazz, Jazz in Sardinia, Veneto Jazz, San Teodoro Jazz, Sardegna Arte Fiera, Musica sulle Bocche, The Barcelona Lem Festival, Senni Jazz, Isole che parlano, The Signal Festival, Festival Spaziomusica.
"Palimpsest" appears in the Best Album ranking of Top Jazz 2014 while the ensemble "Geometrie Variabili is present in the Best Group list. (Musica Jazz – January 2015)
"Live at MIA 2015" appears in the list of the Best Jazz & Noise of 2015
"Live at MIA 2015" reviews: Jazz.pt   Avantmusicnews.com   Ajazznoise.com
New Release: