Arovane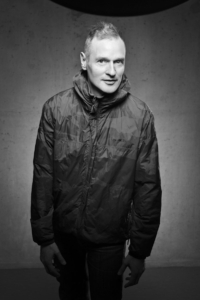 Arovane is Uwe Zahn, a Berlin based electronic musician and sound designer. He is best known the juxtaposition of warm melodies with meticulously processed beat work. His most notable albums and EPs were released by City Centre Offices (Ulrich Schnauss, Porn Sword Tobacco) and DIN (Pole, Monolake) between 2000-2004. Zahn's previous album 'Lilies' (2004) featured the closing song "good bye forever". It seemed a not so cryptically titled exit from all things Arovane. But Zahn's been quietly creating music during this self-induced hibernation and has reemerged almost as if no time had passed.
Arovane's sound can be characterized as ethereal, intellectually melodic, organic, warm and ambient yet technically involved with structured, often heavy, breakbeat and hip hop influenced beats. It is richly layered with synths and textured distortions and focuses more on generating a melancholy nostalgic feeling than 4-on-the-floor dance beats. The tempos are midrange and Arovane has been labeled as IDM by many.
Although the melodic richness remains intact, the resulting sound from the Arovane and Phonem collaboration Aer (Valid) is perhaps more robotic and cold than what could be considered typical Arovane and harkens back to some facets of Arovanes early works, such as Icol Diston.
Arovane can possibly be compared to a blend between the robotic glitch sound of early Autechre and the expansive open synth-laden fields of Boards of Canada. Zahn and his music are often referred to as being melodically advanced.
Nedjev is a side project by Zahn.